Cette offre n'existe plus
Venez passez un sejour à Marrel
en plein coeur de Saint-Rémy de Provence
****
Location pour espace de Bureaux, espace Co-working.
****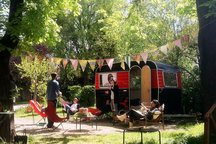 This is a very special place in the heart of St. Remy. The home has retained its original Provencal charms, with personal touches from hosts. The location is superb: on a quiet residential street that is one minute walk away from the town center and church, where you will find numerous restaurants & shops. The house has a huge front garden to have picnics/BBQs, and a really cool caravan for afternoon naps. There is parking on the premises.St. Remy is a great base to explore Provence, as it is a short and scenic drive to neighboring towns, such as Arles and Avignon. The town itself is lively (in a leisurely way) and the Wednesday market is a must see.Aside from the house itself, which is full of the owners' character and care, what made this our home during our 5-night stay was their hospitality. They responded immediately to my email inquiry, welcomed us with warmth and enthusiasm upon arrival, and gave us a thorough introduction to the house and Provence. They were very thoughtful and really went out of their way to make us feel at home. Even Feston (the super smart & adorable dog that is never too tired to play) befriended us at first sight.We travel a lot and stayed in many places, but this one took us by surprise and exceeded our expectation in every way. We feel so lucky to have found this place and to become friends with the hosts!
Linda
From Taiwan – Juillet 2013
We had a great stay at Jean and Houda's apartment in the heart of St-Remy, walkable within a few minutes to the center of town. They are gracious hosts, and their quirky home is full of artful character and welcoming touches. The apartment they rent is on one side of the home with a private entrance, and they live on the other, with a small very excellent shared kitchen.We spent most of our short stay traveling around Provence and did not spend much time here, but we were able to relax, drink wine and bbq in the front garden. St-Remy was very hot when we were there, but the apt is shaded and very old, and stayed cool. There is a wonderful small bakery around the corner that opens at 6am with the best pain au chocolat I had in France.Thank you Jean and Houda for welcoming us and for a memorable stay !
Lori
 - White Lotus Farms
from Ann Arbor, Michigan, United States 
- Juillet 2013
Hello, This was a lovely place to stay in Provence. Shame we were rushing through so didn't even have time to enjoy the welcoming bottle of wine left as an apéritif in the leafy garden. Would certainly recommend it. Good location just sufficiently a couple of streets from the main town centre to make it particularly charming. Lovely hosts – doggie was happy too
Francine
 - ngo director - European Women's Audiovisual Network – EWA
from Barcelona, Ctalonia, Spain - Juillet 2013
This property has rustic charm nestled in the heart of St Remy. It's close walking distance to the heart of the town and all the action. It was a great base for us to explore other towns around as we had a car – the property also has off road parking.
It's a semi-share of facilities of kitchen and laundry facilities – not fully self contained, however this should not detract you as the owners Jean & Houda are really lovely and make you feel very welcome.
Jean recommended some great restaurants for us to visit and kindly assisted with bookings on our behalf. We also enjoyed the opportunity to walk around St Remy taking the path of replica paintings from Van Gogh to guide the walk. On our return we picked up a bottle of wine, some local cheeses and baguette which we enjoyed in the peace of the garden at Marre Marre.
This is a comfortable and pleasurable place to stay for a few nights surrounded by the personal touches of the owners.
Carolyn
From Melbourne; Victoria, Australia - Juillet 2013
 The house was beautiful, big open spaces outside, the rooms were unbelievable stylish, as was the rest of the house. A very warm, helpful and welcoming couple Jean & Houda.
The house was perfect for us, quiet, right in the heart of the village where in the evening we walked to the market and listened to music, and about a 30 min drive to avignon, but you can take the bus as well.
The house and setting was 10/10, we could not have asked for more, thank you so much!
Joshana
From London, England, United Kingdom - Juillet 2013
Expérience excellente à St Remy de Provence. La maison est atypique, créative, parfaite pour les quelques jours de canicule que nous avons vécu sur place. Les hôtes ont été vraiment charmant, très ouverts, curieux, passionnés. Nous sommes resté une nuit supplémentaire pour profiter encore un peu de ce lieu à l'atmosphère unique.
Olivia
– communication and design agency
From Le Mans, Pays de la Loire, France - Juillet 2013
The house is really a charm. Inside keeps cool during the hot days, and the bed was comfy enough! Outside there is a sweet feeling.. You can spend evenings, after dinner, at the yard. Location is perfect with a bakery around the corner and a couple of hundred meters from the center of St Remy de provence.. Strange enough quite a lot of traffic on the road outside the house, also during nights, but nothing that bothered us. This is a place for a couple looking for some romantic and picturesque settings… The inside, bathroom and walls etc are quite « old » in shape… I mean really old… .But Jean and Houda has made a great effort to make it ok anyway!

There is also the cutest Jack Russel running around.. So prepare for a dog that will make you throw the ball over and over again. And again

I think both me and my girl friend can recommend this place for the right people! Enjoy!
Patrik
– Farsta gymnasium, Uppsala Universitet
From Stureby, Stockholm County, Sweden - Juillet 2013
****
Charminghouses - Location vacances Saint Remy De Provence – maisons, appartements, villas – holidays rental - location saint remy de provence particulier - location maison saint remy de provence - location maison vacances saint remy de provence - location villa saint remy de provence - se loger saint remy de provence - maison a louer saint remy de provence - Vacation rentals in South of France holiday rental Provence - Holiday rentals in Saint Remy de Provence - Apartment rental Provence‎